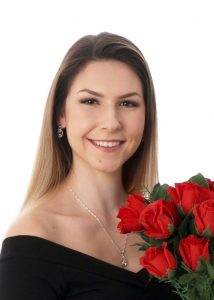 Reserved for no more than 20 students in the University each year, the Wesbrook and the Premier Undergraduate Scholarships are the University's most prestigious designations given to senior students with outstanding academic performance, leadership, and involvement in student and community activities.. Winners are selected from over 39,000 eligible candidates; senior students in a Bachelors degree, first year students in a Master's degree, or those studying for a M.D., D.M.D or a J.D.
Congratulations to Iulia for an outstanding academic performance, and our admiration for your commitment and leadership as volunteer with the Vancouver Coastal Health SMART (Self-Management and Recovery Training for individuals recovering from addition), the VCH Harm Reduction Services (needle exchange clinic), and the St. Paul's Hospital Orthopaedics Research Office.
Iulia is the Editor-in-Chief of the Canadian Journal of Undergraduate Research, a multidisciplinary journal which celebrates and publishes the work of undergraduate students. She has co-authored a manuscript in the Journal of Sex & Marital Therapy based on her work at the Sexual Health Laboratory on the role of mindfulness in women's sexual health.
Iulia is a member of SCI Team, a Peer Program at supporting Science students' personal & professional development and well-being at UBC. In the summertime, she volunteers at the xʷc̓ic̓əsəm Indigenous Health & Research Garden at UBC to maintain plants used as traditional Indigenous medicines and the CEDAR Summer Camp for Indigenous youth who wish to explore educational opportunities at UBC.